Aditi Posted on September 17 2022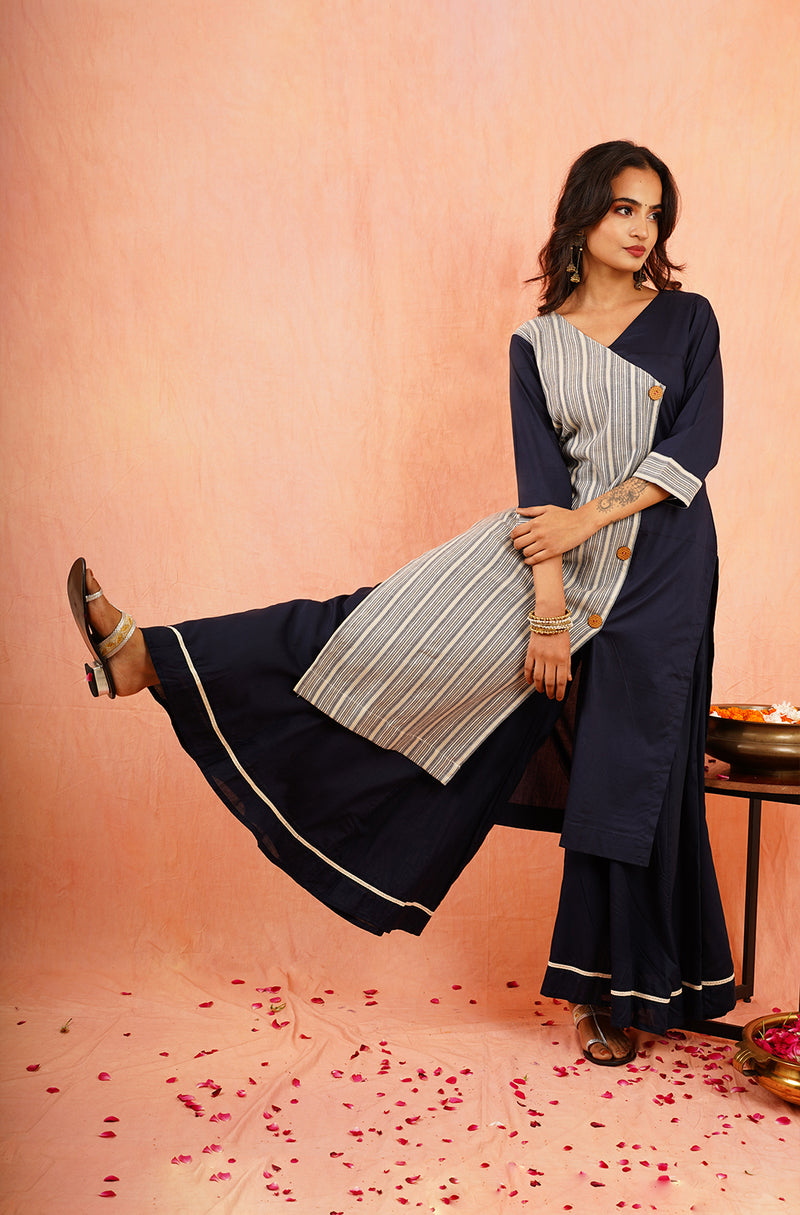 Do you believe cotton is the king among all fabrics on hot sunny days? Well, if not yet, you will now! 
In this blog we have covered everything up that backs up the fact that cotton is better than wearing other fabrics like silk & nylon in hot and humid Indian summer. Read on to find out the amazing benefits of cotton fabric and all the more amazing comfortable cotton dresses to own this summer!
5 Advantages Of Wearing Cotton Fabric In Summer
High five! Do you remember wearing those cute cotton tops, skirts, or frocks sewed by your mother with love? Those dresses were perfect for letting us chill in the traumatic heat. Because cotton was there to keep us all smiling.
Here are 5 reasons to remind you that your Nani, mummy were all correct and why you should switch back to cotton.
1. It Feels Comfortable On The Skin
Cotton is a natural fabric derived from the cotton plant. The facts that it's a great choice for summer weather is because it feels cool against the skin and lets the skin breathe better than most synthetic fabrics. The best part is that it's easy to style with all sorts of accessories and give that uplifted factor to your outfits. Be it a cotton dress in your closet or Cotton Kurtis, this staple Indian attire can be a savior in this hot weather.
Wanna Know which one is our most comfortable cotton dress?
A fabric so soft and colors a perfect amalgamation of neutrals and pops, Lullaby is a perfect summer cotton dress. The dress is box pleated from the top to create a flattering silhouette and is a perfect fit for all body types. Small pleated details at the neck and sleeves along with the cute tassels make it charming. Pick a lullaby this season to rock the summer!
2. It's Sweat Friendly
Cotton fabric is quite thin and keeps the sweat at bay. This quality makes cotton a breathable fabric and one that you can flaunt in summer! Cotton fibers allow air to flow through the clothing easily, allowing your body to regulate its temperature better and sweat less. When clothes are made with synthetic fibers or have a high percentage of artificial materials, your sweat will build up and create an unpleasant smell because it cannot evaporate as it can with cotton fabrics.
Our Taapsi dress is one item of clothing everyone should have in their wardrobe.
Made in everyone's favourite shiffli embroidered cotton, Taapsi is one of those casual cotton dresses that you will wear over and over again. This short cotton dress has some great features, like embroidered fabric, cute appearance, 3/4 sleeves, and light purple color that will make you feel fresh and comfy in this heat.
3. It's Easy Peasy To Care For
Cotton clothes have always been and will be must-haves for summer. They're so easy to care for and more importantly, you don't have to sweat for the small stuff like washing, ironing, and caring. You can machine wash them, put them dry and iron them quickly. Plus cotton fabrics are lightweight, breathable, and perfect for all-day wear.
Check out our Indigo block print dress that needs basically 0 care.
What kind of an Indian will you be if you didn't adorn block print in summer? Fret not, Our ruby dress is the perfect pick for a contemporary Indian outfit. This coral short dress with a cotton hand block printed jacket comes in a Knee Length with Wooden Buttons on the front. Perfect for a day out or a day in!
4. It's Available In Massive Varieties Of Color & Patterns
The most exciting thing about cotton is that it has never ending options! You can dye it, print it, mix it, weave it, create checks, stripes, patterns and what not. The only thing that's not gonna happen is you getting bored of cotton. A printed cotton dress is a staple in almost everyone's wardrobe and we have the perfect summer dress for you!
This printed cotton dress is a shade of pink orange and violet, best to wear to college or a day out with friends. The cambric cotton material makes it perfect for summer days and offers relief from any oncoming heat. No need to break the bank to buy dresses that your skin hates. When you can effortlessly stay gorgeous with this V neck, flimsy floral printed cotton dress. Find it in your size to make the look yours now!
5. Better for the planet
Cotton is one of the most sustainable option available and is better than using synthetic fabrics that don't decompose. Cotton is a natural fiber and offers a conscious choice to consumers towards a slow and sustainable lifestyle.
Check our range of sustainable cotton dresses.
The Vintage Violet, umbrella cotton dress is handcrafted with unique bead work and adorned with a cute similar color belt. This cotton dress featuring an umbrella pattern that emanates ethereal purple is a real advocate for sustainable fashion. Perfect for the summer season, this dress will keep you cool and make you looking chic at any occasion.
We will have you spoilt for choice with our collection of summer cotton dresses. Be sure to have a look!