Aditi Posted on October 19 2022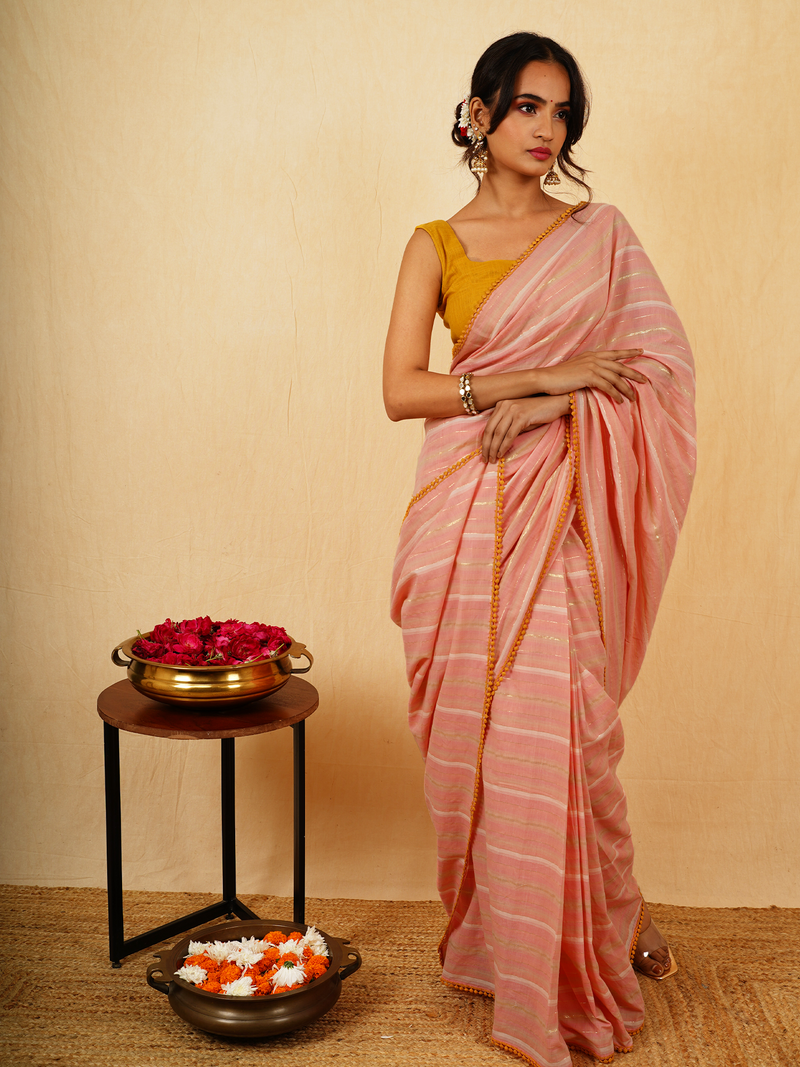 Be it for a festival, a wedding, or an event, sarees are an integral part of Indian culture. Sarees never seem to go out of fashion and make women look gorgeous. However, knowing how to wear a saree is important. In this article, we have listed some of the best sarees styles that you can always count on with short & sweet instructions to wear.
If you're looking for trendy sarees for a special occasion, with just a few steps, you can get new sarees at the doorstep from house of anecdote's trendy sarees collection. Sarees are traditional attire for Indian women. They are often made of pure silk and embellished with intricate weaving and print patterns. Sarees are highly valued in India and are used during special occasions such as weddings or cultural festivals for decades. So, let's move ahead to get acquainted with 5 trendy sarees and the ways to wear them that you look glamorous in.
5 Trendy Sarees & Best Ways To Wear Them To Create An Exquisite Look
Women love wearing sarees not only because it's traditional but also Sarees are a timeless piece of clothing that can be worn in a variety of ways to create an exquisite look. The five trendy sarees that are currently in style are mentioned below with the instruction of creating a stunning look effortlessly.
1. Block-Printed Sarees
Block-printed sarees are timeless and elegant Indian wear. They can be worn for both casual and formal occasions, and are available in a wide range of colors and designs. To wear a block-printed saree, simply drape it around your body, tucking the end into your waistband. Then, throw on a matching blouse and accessorize it with some statement jewellery. Finish the look with a pair of heels or sandals and you're good to go! If you're looking for the best piece in block-printed sarees, here you go for meeting your festive vibes with this beautiful block-printed saree.
Sonali Hand Block Printed Pallu Saree
This saree is sure to turn heads with its intricate handcrafted design. The pallu is printed with beautiful colors and embroidered with beads, while the plates are made from navy blue georgette. The saree is bordered with beige khadi fabric and has stitch details for an extra touch of elegance.
2. Formal Checks Sarees
If you're a working woman looking for formal attire to look sophisticated. Let the formal saree do the magic. Formally checked sarees are a great fit for work not only because it's professional but also stylish. To wear a formal checked saree for a perfect look, pair it with a solid color blouse and matching accessories. For earrings, choose simple studs or hoops. For jewelry, keep it minimal with a few delicate pieces. For footwear, opt for closed-toe shoes or heels. To embellish your hairstyle, try a sleek bun or ponytail. And, here is how you set yourself up for owning the day. Don't forget to try our best seller in formal sarees.
Check Pattern Meher Printed Saree
In a world of endless color, some find magic in grey. This saree, with its overall check pattern and black tassels on the pallu, is perfect for those who love all shades of grey. The border with a simple grey zig zag lace makes it super elegant. Moreover, this easy-to-drape saree comes with a mustard striped blouse piece made with linen fabric that creates a perfect match.
3. Floral Printed Saree
A saree is a versatile garment that can be worn for both casual and formal occasions. The floral saree look is perfect for weddings and other functions where you want to look your best. To wear a saree, first drape the cloth around your waist, then bring it up over your shoulder and tuck it into your waistband. Next, take the other end of the saree and drape it over your head, making sure that the pleats fall in the front. Finally, secure the saree in place with a pin or brooch. To complete the look, pair your saree with matching footwear and earrings. Avoid too much shine & sparkle in earrings, cute floral or oxidize earring would do the trick to make you look stunning. Have a look at our best pick on floral printed saree.
Many printed sarees are there to steal your heart. That also makes it harder for you to choose the one that looks prettiest on you. Well, we have made it easier for you by introducing this Aura Red Floral Printed Saree. This Kota weave saree from Rajasthan has a vibrant combination of colors and patterns. Plus, this saree comes with a maroon plain blouse piece, making it perfect for any occasion.
4.  Cotton Saree 
Cotton sarees are the perfect choice for summer as they feel light and airy on the skin. And, making them extremely comfortable to wear in the heat. Plus, they also have a tendency to absorb sweat, keeping you feeling cool and dry even when the temperature rises. Pairing a cotton saree with minimalistic jewellery and a sleek hairstyle is the perfect way to keep your look chic and elegant on those hot summer days. Whether you're attending a wedding or a family function, or just going out for lunch with friends, a cotton saree is always a good choice. Make sure to team it with some comfortable flats or sandals, as you'll be doing a lot of walking in the heat! We have hand-picked our best choice of cotton saree for you.
Pritha- Cotton Saree With Unstitched Blouse
Introducing the Indian cotton saree, with modern style and elegant touch. This beautiful piece of clothing is made of cotton and comes in ethereal peach color with multi stripes pattern and thin mustard kinari. The blouse fabric is linen, and it has pretty mirror work on the back. It is super comfortable and easy to handle and pleats make it perfect for work or day parties.
5. White Elegant Saree
White sarees are definitely having a moment and we can see why! They are the perfect mix of elegant and chic and can be dressed up or down depending on the occasion. Plus, they are super versatile and can be styled in so many different ways. If you're looking to rock a white saree, we've got some tips on how to do it right.
For starters, make sure you pick the right fabric. A lightweight fabric like chiffon or georgette will be perfect for warmer months, while something like silk or cotton will work well for cooler weather. Once you've got the fabric sorted, it's time to think about what kind of blouse you'll pair with your saree. A bold bright color blouse will do the trick, but if you want to add a little more oomph to your look, opt for an embroidered, mirror work or a printed blouse instead.
Meera Bella Cotton Saree With Unstitched Blouse
The perfect modern twist on the classic Indian cotton saree. This six-yard beauty is made of ethereal white fabric with delicate blue check pattern. The saree also comes with an elegant blue kinari and thin denim blouse with beautiful mirror work on the back. Not only is this saree aesthetically pleasing, but it's also incredibly comfortable to wear!
Conclusion: 
We hope you loved reading the article and the 5 trendy sarees we have put together for you. If you're someone who wants to look fabulous regardless of a special occasion. We have got a wide collection of kurta's, kurta sets, cotton dresses, and tunic topics that bring style & comfort in your busy days.
.