Aditi Posted on September 26 2022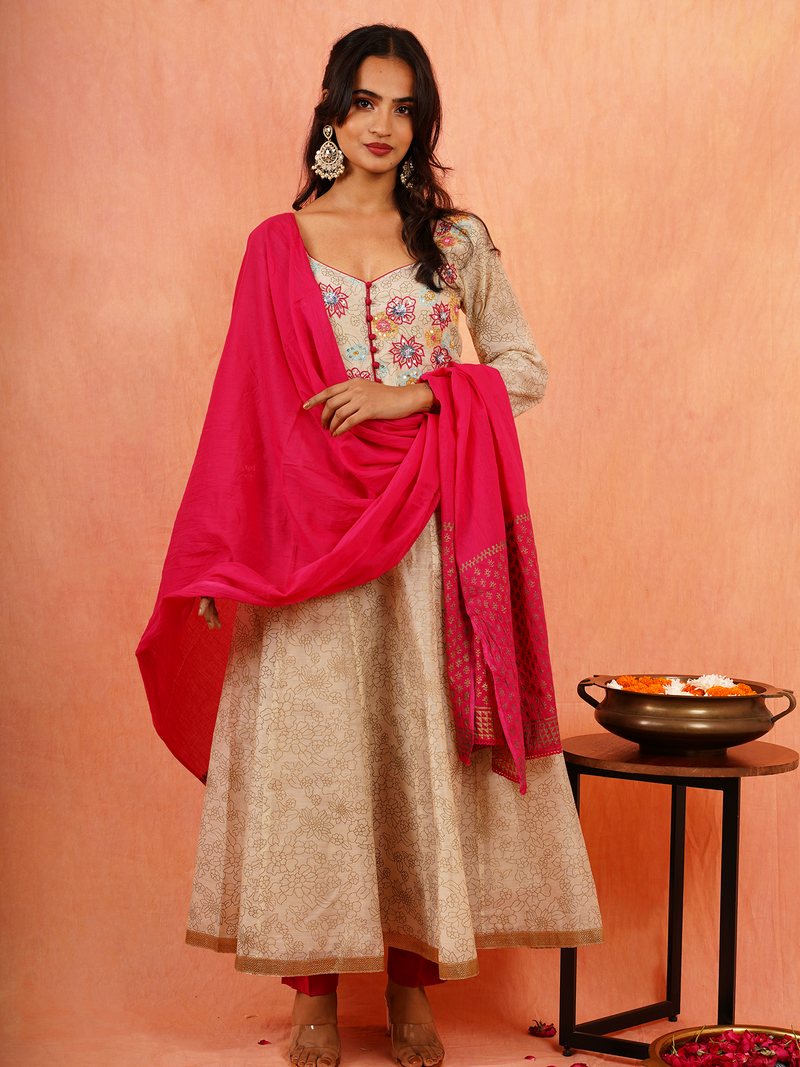 Diwali is one of the most popular festivals of the year. It's an auspicious time when families gather together and have the best time of their life. And it's also a time when we celebrate love, care, and passion together. Plus, on this vibrant festival, we rejoice even more when we help the needy & poor. A festival of light that brings positive vibrancy to our lives can't be completed without wearing dazzling pieces that look stunning on us. Well, you got it right, this blog is all about the staggering women's dresses you can flaunt on 5 days of Diwali.
Top 5 Women's Dresses To Wear This Diwali From House Of Anecdotes 
As the festival of light is approaching, every woman is finding trendy dresses that look gorgeous to celebrate the auspicious fest. If you're looking for the same. Here are 5 dresses that you can wear on the 5 days of Diwali that look hotter than the firecrackers.
Day 1: Dhan Teras 
Dhanteras is a festival celebrated on the thirteenth lunar day of the month of kārtik. This festival is celebrated to pray for the prosperity and wealth of the family.
This festival is celebrated in the honour of Goddess Lakshmi. On this day of wealth, you can wear this beautiful dress that is inexpensive but makes you look magnificent. This dress is made with hand embroidery to attract wealth & of course everyone's eyes. 
This beautiful jiva hand embroidered suit set is perfect for the Dhanteras evening or any other special occasion you want to look your best. The grey-blue Anarkali kurta is adorned with stunning floral hand embroidery on the front. It also has a peach organza dupatta that you can pin on one of your shoulders to have an ethnic look. Plus, the intricate hand embroidery is a work of art and is sure to make you stand out from the crowd on Dhanteras.
Day 2: Choti Diwali
Choti Diwali is also called Mini Diwali or Little Diwali, but it is no less important than the other days of the festival. It is celebrated the next day of Dhanteras and before Diwali. On this day, the Goddess of wealth, Lakshmi, is worshipped in the evening and then the story of Lord Krishna stealing her wealth is narrated. It is believed that by wearing new clothes, your wealth will multiply and you will have a prosperous year ahead. Want to find out, what's our best pick for Choti Diwali, here it is.
This kurta with dupatta & pant combination is perfect for ladies who want to flaunt the elegance in them. The greyish blue colour on the Kurti gives it a classy yet glamorous look, while the embroidered work on it makes it highly elegant. Pair this kurta with a net dupatta with a beautiful matching border. It also has pearl blue buttons on it. So, get ready to wrap up your beauty with elastic white pants. Plus, to add even more ethnic elegance to it, wear some traditional-looking makeup. Plus don't forget to wear a simple neck and ear jewellery to add that extra charm to your complete look.
Day 3: Laxmi Poojan - Diwali
Laxmi pooja is one of the biggest festivals in India. People clean their houses and worship goddess Laxmi with great devotion on this day. Women dress up in their traditional attire, wear beautiful make up and drape the best jewellery they have on them. Laxmi is worshipped in the Hindu tradition, as the Goddess of wealth, prosperity, and the embodiment of beauty. Women believe that praying and worshipping Laxmi will bring them good luck, prosperity, happiness, and abundance. Here is what you can wear on this auspicious day to create a divine look.
This gorgeous, traditional Indian hand-block printed pallu saree features a beige border with hand embroidered pallu. The embroidery is arranged beautifully on the pallu with beautiful colours and beads. The georgette fabric plates will fall gracefully down your body, creating curves and drawing attention to your feminine shape that makes it the perfect attire for ladies who wish to create a killer look on Diwali.
Day 4: The Next Day Of Diwali
Diwali is a festival of bright colours and to maintain that vibrancy for the next day, choose dresses that are striking but tranquil. A women's casual dress would do the trick, in the most attractive colour for women -RED! When looking for a complete outfit to wear the next day of Diwali, pick this striking dress you wouldn't regret.
A wonderful embroidered dress for the next day of Diwali, the Red Velvet Chikan Short Dress features striking hand embroidery on the collar and belt of the outfit. Along with being a perfect casual outfit, this item is also perfect for casual parties. As it has a side zipper for perfect fitting.  This gorgeous red dress perfectly flaunts your curves and makes you look chic. Get all set up by styling it with gold jewellery and matching pencil heels to complete your get-up.
Day 4: Bhai Dooj
Bhai Dooj is also one of the most important festivals in India. On this day, sisters tie a tika on their brother's forehead and pray for his prosperity and well-being. This family tradition is celebrated all over the world with joy and enthusiasm. Every Indian lady looks forward to it for various reasons but one thing remains the same across the board, such as an irresistible need to wear ethnic attire that makes you feel proud to be an Indian woman!
The Maharani-style Kurti is designed in the traditional and stylish Chanderi fabric. The traditional beige kurta is given a stylish twist with the hand embroidery and pink-colored handmade buttons on the front, which creates a flattering look. Perfect for the brother-sister festive Bhaidooj. Pair this set with bright bangles and earrings for a stand-out glamour look.
Wrapping Up:
Diwali is on its way and we are so excited to celebrate with you all. While you all wait in excitement to light up your diyas, we wanted to share with you some stunning dresses you can wear to the parties that come with this festival. While you are all imagining your DIVA Look for this Diwali, please check out some stunning festive wear dresses available on our website today.